Head-On Shrimp (25 lb Minimum)

Jumbo $ 7.95/lb (9/12)

X-Large $ 6.95/lb ( 10/15)

Large $ 5.95 (16/20)

Medium $ 4.95/lb (21/30)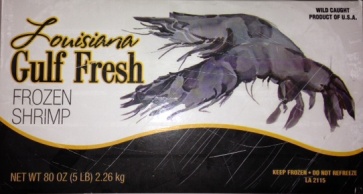 Head-Less Shrimp frozen 10X5 lb. Boxes

- Jumbo $ 10.99/lb (10/15)

- X Large $ 9.59/lb (16/20)

- Large $ 8.79/ lb (21/25)

- Medium $ 7.49/lb (31/35)



(5 lb.Minimum)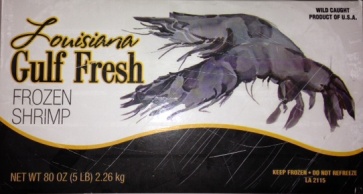 Frozen Peeled Shrimp 10x5 lb. Boxes

- Jumbo $ 7.95/lb (26/30)

-X- Large $ 6.99/lb (31/40)

- Large $ 5.99/lb (40/50)

- Medium $ 4.99/lb (50/60)



(5 lb.Minimum)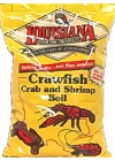 "Cajun Shrimp Seasoning"
Cajun Boil Shrimp Seasoning 4.5 lb Bag
-Your Price $ 8.50








WE PACK AND SHIP ANYWHERE IN THE USA



-Orders placed by 11am CST can ship out the Same day.
-Orders placed by 5pm CST can ship out the following day on the early morning flight.
Let us set up your account today,then it's as simple as a phone
call to place your order at home.
For updated Prices and Information,Call Today.
Sales Office:(504) 464-9808

Fax:(504) 464-9860

We Accept All Major CreditCards


Home
Crawfish
Crabs
Oysters
Alligator,Turtle
Sausage / Seasoning
Contact us