We Are The #1 Shipping Company of Live Crawfish,Crabs and Fresh Seafood in New Orleans – Shipping More Than1.5 Million Pounds of Seafood!!!
-Thanks To All Our Loyal Customers !!!!!

For Five years in a row LA. Best Seafood has been recognized as the TOP REVENUE PRODUCER for Southwest Air Cargo New Orleans.We ship more pounds of Louisiana Seafood and Meat products through Southwest New Orleans than ANYONE ELSE !!! Southwest has rewarded LA. Best Seafood with preferred shipping rates so that our customers pay less for their air freight shipments.This allows us to meet the Growing Demand for Quality Fresh Louisiana Seafood ....AT CHEAPER PRICES TO YOU!


We've Expanded Our Facility,LA. Best Seafood, LLC . has expanded the facility 30,000 SQ! We have also made some big changes in the production, sales and service departments. We are excited to announce:

Our production facility has added:
A New Fish Packing Plant
A New Freezer that can hold up to 1,000,000 Pounds
A New Cooler "Fresh Seafood" that can hold 250,000 Pounds

We improved our sales department by:Building three new sales offices and a separate meeting and board roomImplementing a new and improved server system, computers and Sales Customer systemWe are thrilled with all the new things happening at LA.Best Seafood,LLC. and continue to pride ourselves on striving to sell, service, best products and services available in the Seafood industry

"Lowest Prices Guaranteed"

Wholesales account has the power to buy at wholesale prices with a minimum order, and we're able to ship by a trucking line direct to your back door or your home cold storage depending where you're located.For wholesale prices please call John,josh! I guarantee we can workout a deal on prices.



Salted Naturally From Louisiana


We offer Military and Senior Discounts!!




Fresh Seafood direct from Louisiana. Our team of fishermen bring in Live Crawfish & Fresh Seafood daily. All our products are packed and shipped in airline approved shipping containers packed with Gel-Pac's for refrigeration meeting and exceeding all Federal Standards and requirements. We are Verified Shippers with the Federal Transportation Security Agency. We ship Air Cargo same day 7 days a week nationwide. Depending upon the weight and destination of the order.Air Cargo is available Next flight Guaranteed with Southwest Airlines, the most economical shipping value.

LA.Best Seafood competes in the Wholesale Seafood venue, dealing directly with teams of fisherman who bring in live Crawfish & Fresh Seafood daily. Our Cold Storage facilities can store over 1,000,000 pounds of product on site, which allows for better inventory control and more efficient distribution. We dedicate over 12 trucks to daily operations,delivering Live Crawfish and Fresh Seafood to Restaurants and Seafood Markets in the New Orleans ,Baton Rouge,Mandeville,Slidell, and Hamond areas.

Live Crawfish Guaranteed or Your Money Back!"

We offer Military and Senior Discounts!!

LIVE OYSTERS BY THE SACK

$ N/A

(broil,shucking, Good Raw Oysters with Cocktail Sauce)

Warning:
Consumer information-There is risk associated with consuming raw oysters.If you have chronic illness or the liver,stomach or blood or have immune disorder,you are at greater risk of serious illness or even death from raw and should eat oysters fully cooked.If unsure of risk,consult a physician
Oysters should not be consumed raw after 14 days from the date of harvest,but should be thoroughly cooked.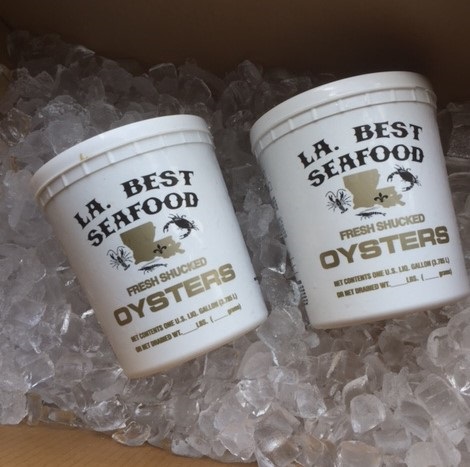 FRESH OYSTERS
(fry,Stew,soup ,gumbo)



Fresh Shucked Oysters . Gallon - Your Price $ 69.00




Fresh Shucked Oysters . Half Gallon. $ 35.95





Fresh Shucked oysters. Quart. $ 29.95





Fresh Shucked Oysters. Pint. $ 17.95




WE PACK AND SHIP ANYWHERE IN THE USA.




-Orders placed by 11am CST can ship out the Same day.
-Orders placed by 5pm CST can ship out the following day on the early morning flight.



Wholesale and restaurant acc.call for wholesale prices and availability.


Let us set up your account today,then it's as simple as a phone call to place your order at home.


For updated Prices and Information,Call Today.
Sales Office:(504) 464-9808
Fax:(504) 464-9860

Sign Our Guestbook
Contact us
Email:loui37@louisianasbestseafood.com

We Accept All Major Credit Cards
Wholesale Seafood Distribution
Fresh Fish Packing Plant


Quality,Service and Price
Customer satisfaction is our promise.
Guaranteed or Your Money Back!






Home
Crawfish
Crabs
Fish
Shrimp
Alligator,Turtle
Sausage / Seasoning
Specialty
Cajun Turduckens
Contact us
"The Dock Is Our Home"

"The secret of successful retailing is to give your customers what they want. And really, if you think about it from your point of view as a customer, you want everything: a wide assortment of good-quality ; the lowest possible prices; guaranteed satisfaction with what you buy; friendly, knowledgeable service; convenient hours;a pleasant shopping experience."




Quality,Service and Price
Customer Satisfaction is our promise

Louisiana's Best Seafood,LLC.
Wholesale Seafood Distribution & Cold Storage.
Customer Service
e-mail:
loui37@louisianasbestseafood.com

SHELLFISH CERTIFICATION HAACP# LA 2245-SS
License # 417052
State Of Louisiana